Greater Bakersfield And Kern County
Protection Is Our Profession
Roofer in Bakersfield, CA
If you're dealing with water leaks in Bakersfield, CA, then let a roofer take care of the problem. Here at Protec Roofing Company, we strive to deliver high-quality, reliable work on every project. Our rates are competitive, and you'll appreciate that our contractors are available seven days a week.
We're one of the most trusted names in the region because we work on all types of properties and can install almost any type of roofing material. We're ready to assist you with scheduled appointments. Our contractors are licensed and insured to work on:
Give our roofer a call today so that you won't have to worry about water leaks or other issues. We have satisfied clients throughout Bakersfield and Kern County, so see what Protec Roofing Company can do for you. Our team of professionals will work hard to finish your job promptly and within the budget, and we hope that you'll be pleased with our attention to detail.
When you need roofing services in Bakersfield, CA, look for a company that's fully licensed and insured. You can count on Protec Roofing Company for excellent customer service and high-quality work. We're family-owned an...
Whether you need a new roof on your existing home or are re-roofing to include an addition to your property, Protec Roofing Company is the team to trust in Bakersfield, CA. Our dedicated, professional roofers are on hand...
Even high-quality roofs are designed to only last so long. If your roof is old, worn, and damaged, paying for repairs may not be the wisest move. So if it's time for a replacement, our team is at your service in Bakersfi...
Click here to view our certifications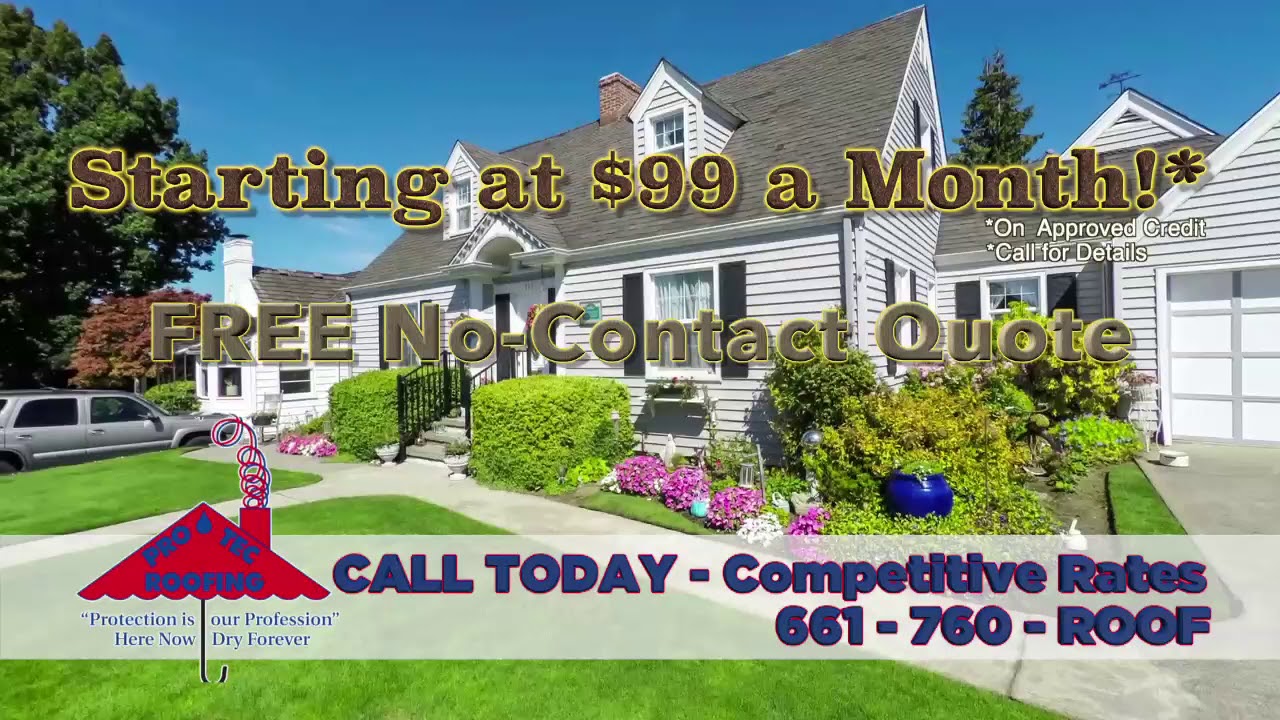 Very happy with their service and response!

- Tracey Tipton. 6/11/2019

Jerry, Jason, and the entire Protec crew are the best. They are punctual, friendly, and professional. Their estimate was not the cheapest, but they were willing to work with me, and I felt comfortable with the quality of the work I was going to receive. They've been in the business for a long time and it shows. We had an unusual patch of rain leading up to my job, which put them behind schedule, but they kept in touch with me and let me know what was happening. When they started work, the job was knocked out in three days, even with some adversity. I had a major framing issue with the peak of my roof, and Jerry brought in a contractor he knew to fix the issue in a few hours, at a very reasonable price and we were back on track. The only hold-up ended up being waiting on the inspector, who couldn't keep up with Protec's pace. The following day, my roof was sheeted, and the next day they were done, but 1:00pm. Their flexibility and professionalism was amazing, but the quality of the work is what really stands out. My roof looks great and I'm sure it will last for decades. I can't praise Protec enough.

- John Peterson. 3/4/2018

Highly recommend them. Needed to get bids for my bosses, and Jason at Protec was the only one who was able to give me a straight answer, timely bid, and get the job done in the time frame that was needed. Enjoyed working with them. AND... they clean up after themselves... excellent!

- Maria Martinez. 0/5/2018

Have worked with various home contractors recently and the experience with Jerry was one of the more pleasant and professional ones. The cost for the roof was very reasonable. Jerry was extremely prompt, efficient (finished roof in less than 3 days), honest, knowledgeable and went above and beyond. He even took his own time to take care of an issue that our AC guy should have taken care of. We offered to pay for that service and he refused it. Thank you so much for a job well done and for restoring our faith in contractors. We highly recommend Jerry and his company Protec!

We liked Jerry the moment we met him! He was knowledgable, informative, professional, honest and answered all our questions. He always made time to return calls in a timely manner. Jerry was very helpful to us when we were trying to decided between products. With Jerry's extensive roofing experience, he gave us honest opinions when we were trying to decide on the best product for our roof! We like that we always dealt directly with Jerry the entire process! His prices are affordable and his estimate was lower than the other four we got for the exact same product! His crew is experienced, knowledgeable, polite, professional, and extremely efficient. They finished our roof in 4 days, instead of the estimated 5! Their clean up was unbelievable! When they left you would not have even known they were! Our roof looks fantastic! Better than we could have imagined! We are so pleased with Pro-Tec Roofing and are so glad we chose them. We highly recommend Pro-Tec Roofing! What you see is what you get! A quality roofing company, for a fair price, and wonderful service! You can't get better than that!

- Nicole Strategos. 5/23/2016

After getting many bids and talking to a lot of roofers, Protec Roofng came out on top. The work was done on time and the job was high quality, no cutting corners, Pricing was very reasonable, and the workers were very personable, I also liked that when I called I got Jerry, the owner, didn't have to go through a system and hope I would get a return call. Jerry answered all my questions so I always knew what was going on. Quality product, Quality work, Quality price. I Love our new roof.

I found Protec on Home Advisor and called for an estimate. He came out in an hour and went over everything with me. I received another estimate that was higher than Protec and they didn't give me a good feeling. Jerry was so nice and answered all of my questions and my husbands questions. He was able to start three weeks later. Then he called and asked if he could start a week early! Awesome! Everything went so smooth. He pulled the necessary permits and did everything according to the current laws which is very important to me. Jerry was very knowledgeable and I would recommend him!

- Shelley Anderson. 2/3/2016

Cannot say enough good things about this company! Jerry and his crew are excellent in every department. Jerry is punctual, friendly and very knowledgeable. He thoroughly explained what the condition of my roof was, and gave me a detailed explanation of why my roof needed to be replaced but never made me feel like he was "selling" anything to me. The price was super reasonable, he did everything on time and on schedule! His crew did a great job, and I am SO happy with my new roof!

- shaela malena. 1/28/2016

Thanks to ProTec Roofing I have the best looking roof on the block. Jerry Chaney, owner, is quite the professional from estimate to finish. He even helped us get special funding for our new roof through the federally funded program, Ygrene, with no out of pocket expense, by using energy saving reflective roofing material. Jerry and his crew were always on time and professional, especially when paying attention to detail. I highly recommend ProTec Roofing if you're wanting the best looking roof on your block :)

- Brenda Archer. 1/28/2016

I called Protec Roofing for a estimate Jerry came out to my house gave me a decent quote we scheduled the project he was on time did the job on time that was discussed very professional company I highly recommend this company.

He did my roof and he did a great job! We highly recommend him.

- aiden mwcias. 1/28/2016

Very knowledgable an professional my roof came out amazing and I couldn't be happier!

Did my roof, came out amazing. Very professional and great price

- Brian Watkins. 1/27/2016

Got my roof done by jerry, and i couldn't be happier. He was very professional, and he got it done quick. I will be sure to let anyone who needs a roof done to go to this guy.

- Jacob Malena. 1/27/2016

Great company I would recommend this company to any one that needs a new roof. Called them for a estimate Jerry came out to my house gave me a fair price we scheduled the project he was there on agreed date and finished the job in the time frame that was set great job good company thanks my new roof looks good

- Levi Forrester. 7/26/2015

Protec Roofing is a very professional and knowledgable business. Our job was scheduled and the work was completed on time. We were even able to finance our energy efficient roof. Our new roof is beautiful. We thank you for your quality workmanship, affordability and professionalism.